Baking this Christmas?
Here are a few recipes to try using our honey…
Honey roasted fig and honey tart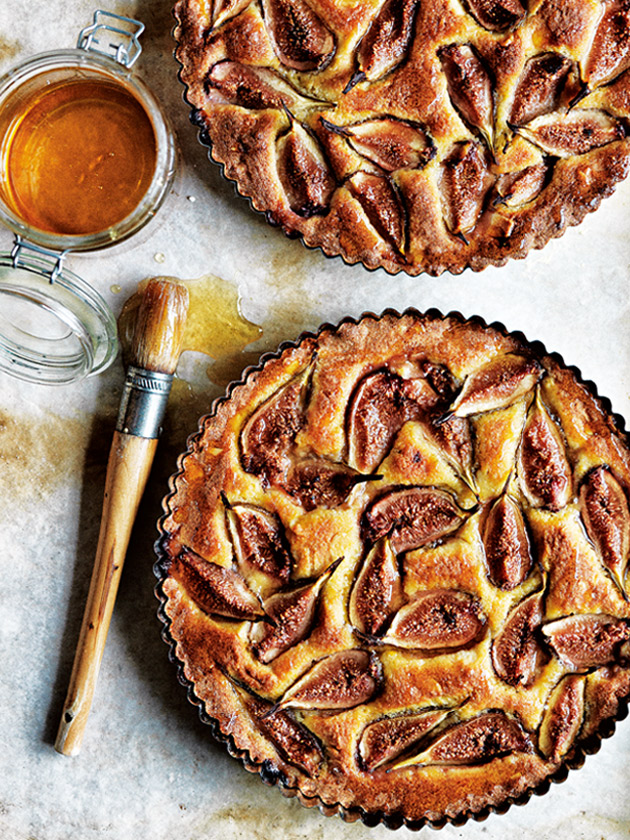 Method
Preheat the oven to fan 180C/ conventional 200C/gas 6. Roll out pastry on a lightly floured surface and use to line a shallow loose-bottomed 25cm flan tin (watch our video to see how to do this. Make sure the pastry comes above the rim – it may shrink in baking and the filling could spill. Chill for 30 minutes.
Meanwhile, cut the figs in half lengthways and sit them cut side up on a roasting tray. Mix the orange juice and quince honey farm clear honey in a bowl, pour over the figs and roast for 10-12 minutes until just soft. Drain off any juice into a saucepan and reserve.
Prick the base of the chilled pastry case all over with a fork, then line with greaseproof paper and fill with baking beans. Bake blind for 15 minutes. Remove the paper and beans and bake for a further 5-10 minutes until the pastry is golden. Remove from the oven and reduce the temperature to fan 130C/conventional 150C/ gas 2. Leave the pastry case to cool slightly before filling.
Cream butter and sugar in a food processor or with an electric beater until smooth and pale. Tip in the ground almonds and zest and whizz briefly to combine. Add egg yolks and 1 tbsp of the reserved fig juice and whizz again until smooth. Spread evenly over the pastry case.
Gently press the figs cut side up into the almond mixture. Bake for 11⁄4 hours or until it's golden all over (don't worry if the centre still seems soft – a little gooeyness is good). Leave in the tin for 15 minutes, then remove sides and transfer on its base to a wire rack to cool.
Before serving, take the tart off its base and transfer to a flat platter or board. If you have juice left from roasting the figs, bring it to the boil and simmer for 1-2 minutes until sticky and syrupy. Brush this over the figs and serve as soon as possible, while the syrup is still glossy on the figs (it will start to seep through into the filling if you leave it too long).
Fig and honey Christmas cake 
Ingredients
750g mixed dried fruit
100g blanched whole almond, roughly chopped
100g chopped peel
200g dried fig, roughly chopped
100g glacé cherry, well rinsed and quartered
300g plain flour
1 tsp ground cinnamon
1 tsp grated nutmeg
zest 1 lemon
250g lightly salted butter
250g light muscovado sugar
1 tsp vanilla extract
2 tbsp QHF clear honey
1 tbsp black treacle
4 large eggs
½ tsp bicarbonate of soda
1 tbsp milk
3 tbsp brandy
Method
Heat oven to 140C/120C fan/gas 1. Line the base and sides of a 20cm cake tin first with a double layer of brown paper, then with a double layer of baking parchment. In a large bowl, mix the fruit, almonds, peel, figs and cherries. Turn well and add the flour, spices and lemon zest. In a separate bowl, cream the butter and sugar thoroughly, then add the vanilla extract, qhf clear honey and treacle. Still beating, incorporate the eggs, then stir in the fruit and flour mixture. Dissolve the bicarbonate of soda in the milk and stir in thoroughly. Add the brandy by the spoonful, until you have a soft dropping consistency.
Turn the batter into the cake tin and make a dip in the middle using the back of a spoon. Bake for 3½ hrs, then insert a skewer – if it comes out clean, it's ready. If there is any cake mix on the skewer, give it 10 mins more and test again. When it's done, remove the cake from the oven and leave to cool in its tin. The next day, remove from the tin, wrap in fresh greaseproof paper, then put it into an airtight tin or wrap tightly in foil. The usual thing is to keep the cake for at least a month before icing it, and to unwrap and sprinkle it occasionally with more brandy.
Poppy seed and honey cake 
Ingredients
140g self-raising flour, plus extra for dusting
100g golden caster sugar, plus extra for dusting
175g butter softened
85g QHF clear honey – try acacia for a delicate flavour
3 medium eggs
25g cornflour
2 tbsp poppy seeds
For the icing
100g icing sugar
Method
Heat the oven to 160C/fan 140C/gas 3. Butter a 1.3 litre capacity ring tin (approx 20cm diameter) and dust the buttered surface with 1 tbsp each plain flour and caster sugar, then tap out the excess.
Beat the butter, sugar and QHF Clear honey with a hand-held electric whisk, until pale and fluffy with a dropping consistency. Beat in the eggs one at a time. Mix the flour, cornflour and poppyseeds and fold into the creamed mixture.
Spoon into the prepared tin and level the surface. Bake for about 35 mins until risen and firm to the touch. Leave to cool slightly in the tin then carefully remove, easing the sides with a palette knife. Cool on a wire rack.
For the icing, mix both ingredients together then drizzle over the cake while it's still on the rack and leave to set. Transfer to a plate to serve. Will keep in an airtight container in a cool place for up to 5 days.
Don't forget to pop in to our cafe in South Molton for some of Pam's homemade cakes.
Open 10-5 every day except 25-28th Dec 2017 and 1st & 2nd of Jan 2018.
Happy baking!